The digital content landscape constantly evolves, and in recent years, the Amazon Group has been at the forefront of this transformation. With its recent announcement of establishing a specialist distribution arm, it's becoming increasingly important to understand Amazon's strategic moves in content creation, production, and acquisitions. 
We recently delved into the Amazon Group's worldwide content production, development, and acquisition deal activities from May 1, 2022, to April 30, 2023. This snapshot article provides a perspective on the Amazon Group's strategic content moves.
Background: Amazon's entertainment empire
Among the Amazon Group's impressive roster of companies in the entertainment arena are recognizable names like Amazon Studios, Metro Goldwyn Mayer (MGM+), Freevee, Prime Video, Wondery, and Amazon Kids. The portfolio also includes newer ventures like Amazon MiniTV and the renowned Orion Pictures. This diverse collection of businesses is helping to shape the future of the global content landscape by churning out engaging content consistently.
Unpacking Amazon Group's Content Deal Volumes
The strategic decisions of Amazon Group reveal a trend towards increasing content production and acquisitions, particularly evident early this year (Q1 2023). Last year, Amazon was involved in a significant number of content deals, with October 2022 and April 2023, being particularly heavy.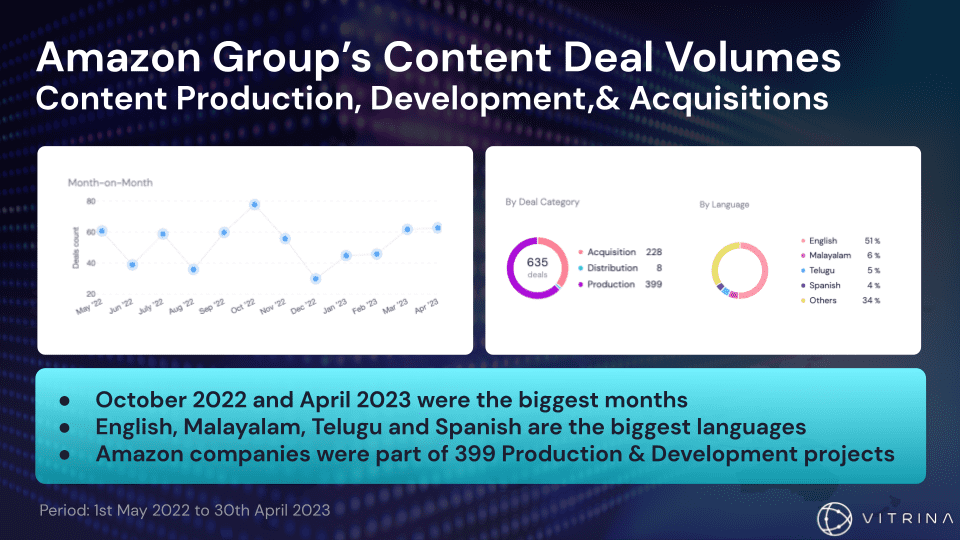 Content Deals Breakdown
Out of all the content deal activity that Amazon companies were a part of during the 12 months tracked, a large part was related to production and development. With nearly 400 Production and development projects globally, it's clear that Amazon is heavily invested in creating original content. 
Language, Genre, Format, and IP Types
Reflecting the increasing globalization of content, English, Malayalam, Telugu, and Spanish languages have emerged as the biggest players in Amazon's portfolio. The heavy investment in Malayalam, Telugu, and Spanish language content reflects a broader industry trend of catering to diverse, international audiences, and acknowledges the growing popularity of non-English content in global markets.
Delving into the genre specifics, Drama, Comedy, and Thrillers took the top three spots, respectively, showcasing Amazon's continued commitment to varied and quality content. Interestingly, unscripted content outweighed scripted, with 60% unscripted and 40% scripted. This underscores the evolving viewing preferences of audiences who increasingly appreciate the authenticity and spontaneity of unscripted content.
The mix of IP types acquired by Amazon indicates a continued interest in both movie and television content, with 50% movies and 40% TV shows. However, it is the steady stream of book rights acquired (10%) that has sparked considerable interest. We predict a surge of literary adaptations gracing our screens soon.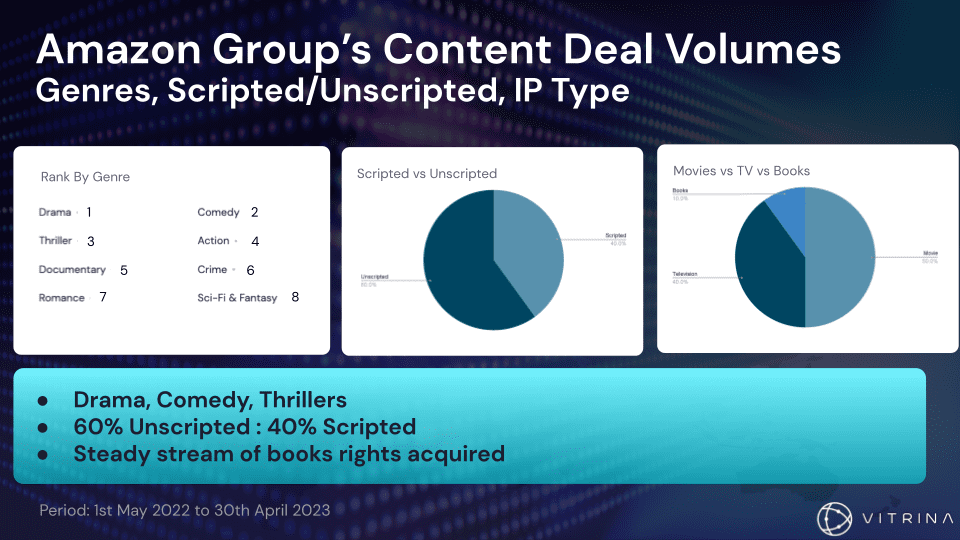 Key partnerships & featured content titles
During the 12-month period studied, Amazon Group's top partners included major industry players such as Sony Pictures, Plan B, Lionsgate, ITV Studios, and TVF.
Titles that our team picked up from Amazon's portfolio during these 12 months:  'The Outlaws,' 'The Handmaid's Tale,' 'Judy Justice,' 'Chloe,' 'Yeh Meri Family', and 'Coach Prime.' These titles demonstrate Amazon Group's continued efforts to deliver content that resonates with a diverse range of viewer interests, geographies, and demographics.
Curious about global trends in Entertainment?
Vitrina's platform tracks major global, pan-regional, and local companies across the entertainment ecosystem. Our intel helps top business leaders in the industry spot trends, find partners, discover new content IP as well as profile specialist services, and tech companies across the entertainment supply chain.