Supply-Chain Network for Film & TV Production Houses
Navigate Film & TV Supply-Chains With Ease. 

Study Preferred Partners and Vendors of Major Studios and Production Houses.

Find Specialist Vendors and Suppliers Internationally.
Supply-Chain Complexity
Entertainment supply-chains are incredibly complex and fragmented! Don't believe me…? Close your eyes for a moment and think of all the movie and television credits that roll as the show ends. Those 8-10 minutes of credits have just a partial list of companies – Camera Rentals, Music Soundtrack, VFX, ADR, Colorists, Post Production, Line Production, Drone Filming, Special Effects, Virtual Production, Animation Services, yada, yada, yada. And then there are a host of other companies that don't even make it to the credit-roll.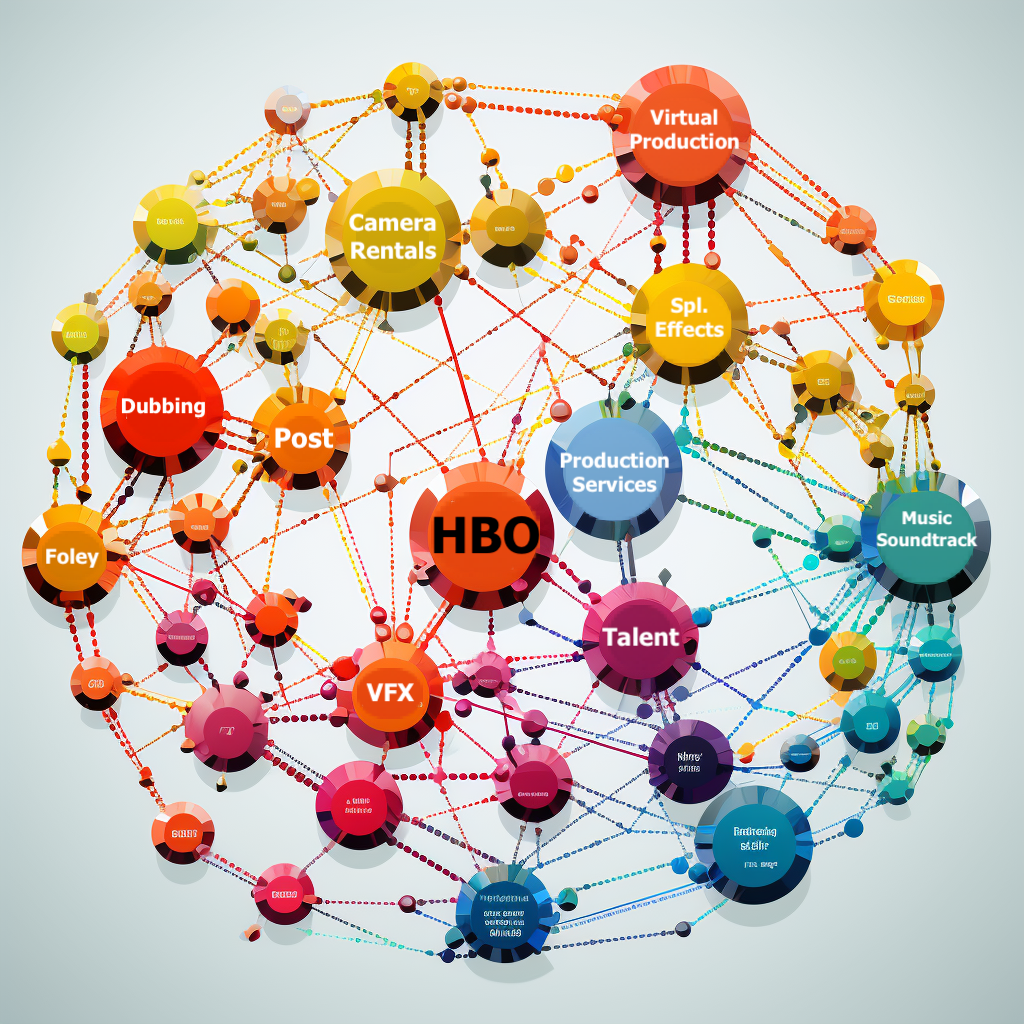 Pain-point: Finding Credible, Specialist Vendor Partners… Specifically Internationally
The complexity and fragmentation of the supply chain in the Film and Television industry globally creates a problem for the buy-side in the industry. Leaders in Procurement, Sourcing, Production, Post, Localization and Content Acquisition – all have the same problem of locating the most qualified, specialized, trusted, able, high-capacity and high-availability vendors. Away from tribal-knowledge as well as inaccurate or outdated vendor tracking spreadsheets, the M&E sector needs a dynamic, updated system for vendor-partner selections. 
Vitrina AI has been addressing these challenges with the design of a host of signals that reflect vendor characteristics, size, strengths and specializations.  One of the core indicators of a strong and established vendor is the client roster along with past and present projects delivered into that clientele. 
Let's take an example… If you were to compare two VFX companies – say company ABCD that is consistently being selected by Marvel Studios for Marvel's last 10 movies. Versus the other VFX company – PQRS that works with a new client on a single project but does not get picked for the next projects. That is a powerful signal! It demonstrates strength of relationships, consistency of selections and most importantly, it shows that ABCD is a "Preferred Partner" of Marvel Studios.
Introducing Vitrina Supply-Chain Network
As the world's largest supply-chain marketplace platform for Entertainment, Vitrina A.I. is announcing a cool new module! Called "Supply-Chain Network", this module helps in finding the most preferred companies in Production Services, Post, Localization, Distribution and pretty much all the specialist areas in the entertainment value-chain! 
This system is capable of deriving the "Preferred Partners" for major global, pan-regional production houses, at the click of a button. The module can be used to look at the vendor-partners constantly/ consistently selected by a top production house. And this can be done for 1,000+ specializations and services across the Film+TV supply chain to answer questions such as:
Which VFX companies have been selected for Netflix Originals in the last 3 years?

Which Localization companies dub Sony Picture's content?

Most preferred camera rental companies for StudioCanal?
The list is endless to do justice to any combination of queries in this fragmented value-chain.
What's more, Vitrina A.I. is doing this at scale – 60+ Countries! The 'Supply-Chain Network' module will give Sourcing, Procurement, Production, Post and Localization leaders an easy method to look at hot, happening, innovative suppliers, vendors and service-providers, at the click of a button, globally!
How Should Specialist Vendors in Film & TV Sectors Use the 'Supply-Chain Network'?
Vendors and solution-providers that serve the Film and Television industry anywhere in the world should ensure that their latest projects are all neatly mapped to their companies inside the Vitrina platform. This will ensure that they reflect as the preferred partners in their specialist areas for their strongest client relationships. Future inbound business inquiries from prospective customers are highly correlated with a conviction about the vendor's prior project deliveries and strength of their ecosystem relationships.