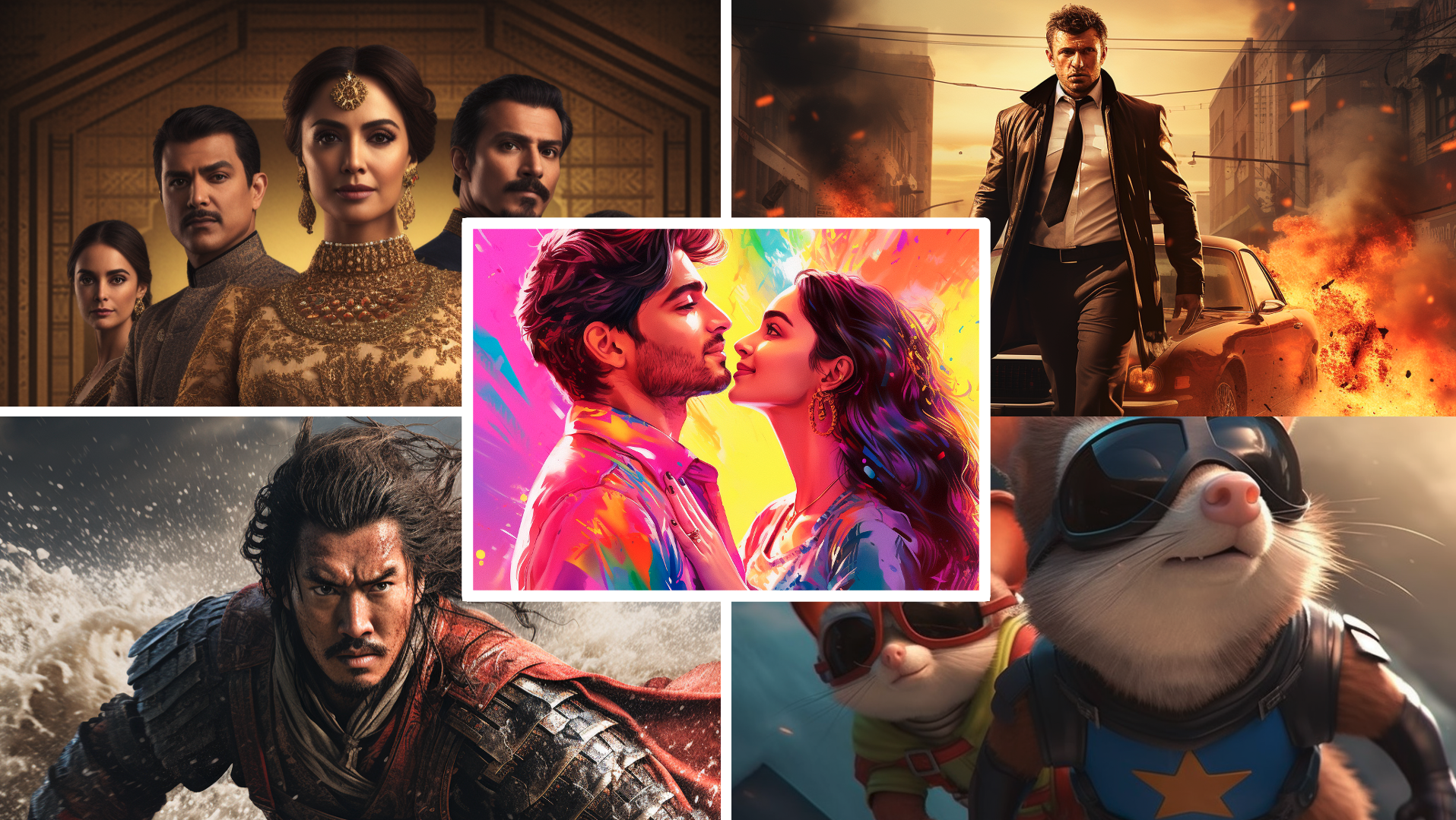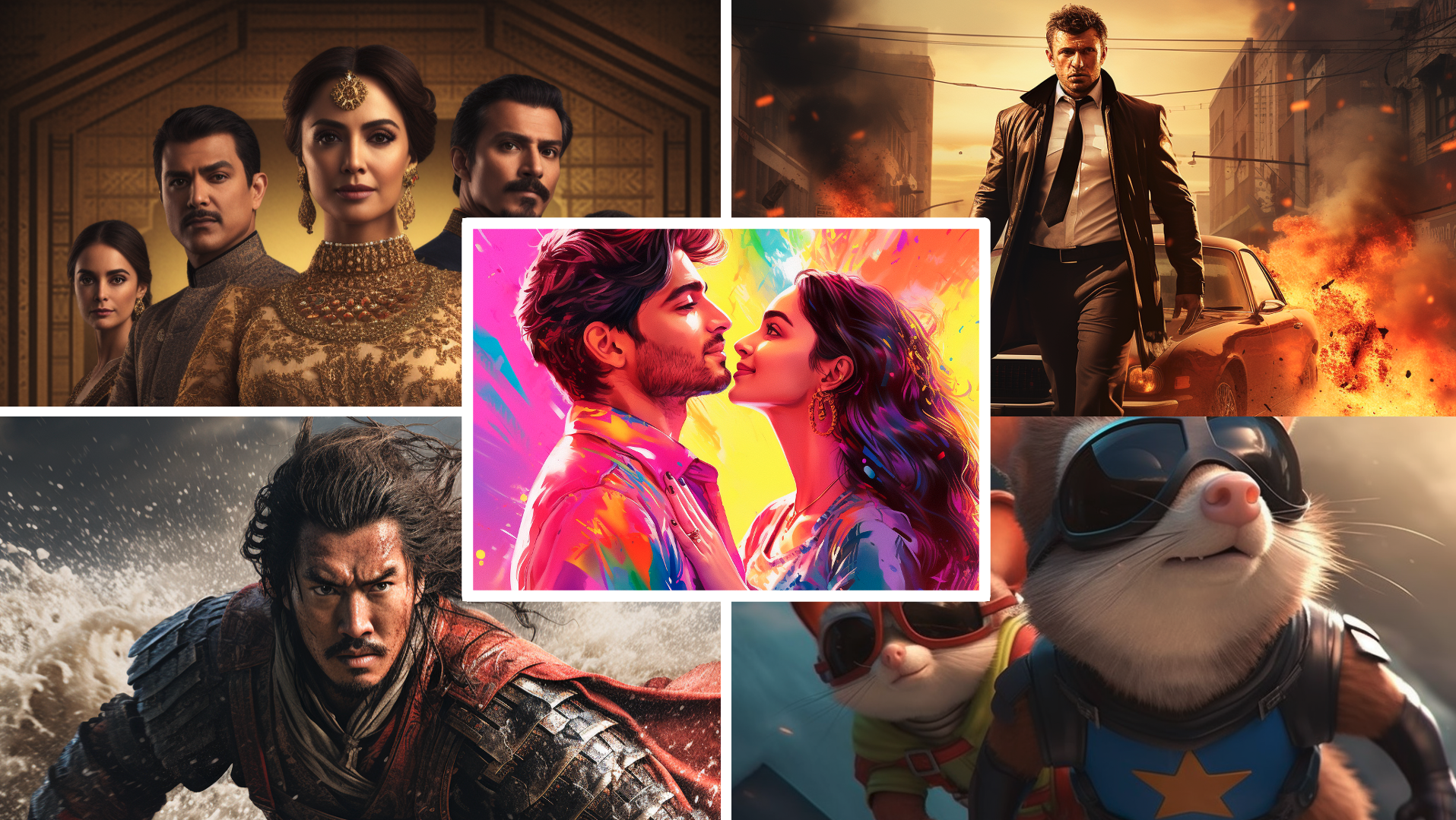 Problems associated with international content acquisition
Buying content from new countries (example – South Korea, Turkey, Japan, Brazil) is always complex if you haven't dealt or dabbled into those markets. There are three key problems in the path to international content acquisitions:
What content to acquire (specific titles, target genres, popularity signals)
Who to buy from (distributors, sales agents, regional distribution companies)
Is it available (avails rights for specific territories)
How SBT was able find the best rights to license?
Background: SBT Brazil is a leading TV broadcast and streaming network based in Brazil. They have highly popular Portuguese content. In order to gain parity with global streaming companies, who have a rich international content fare, SBT wanted to license powerful stories and scripted series from multiple regions across the world.

SBT wanted to license powerful stories and scripted series from multiple regions across the world.
Step-1: Which International Languages to Shortlist
Competitive Content Intel: SBT wanted to know which international content Netflix and Prime Video were bringing into Brazil. Especially in terms of languages, genres,
Vitrina's solution: SBT was able to study Netflix's and Prime Video's catalog to determine languages like Turkish, Korean and others as priority considerations.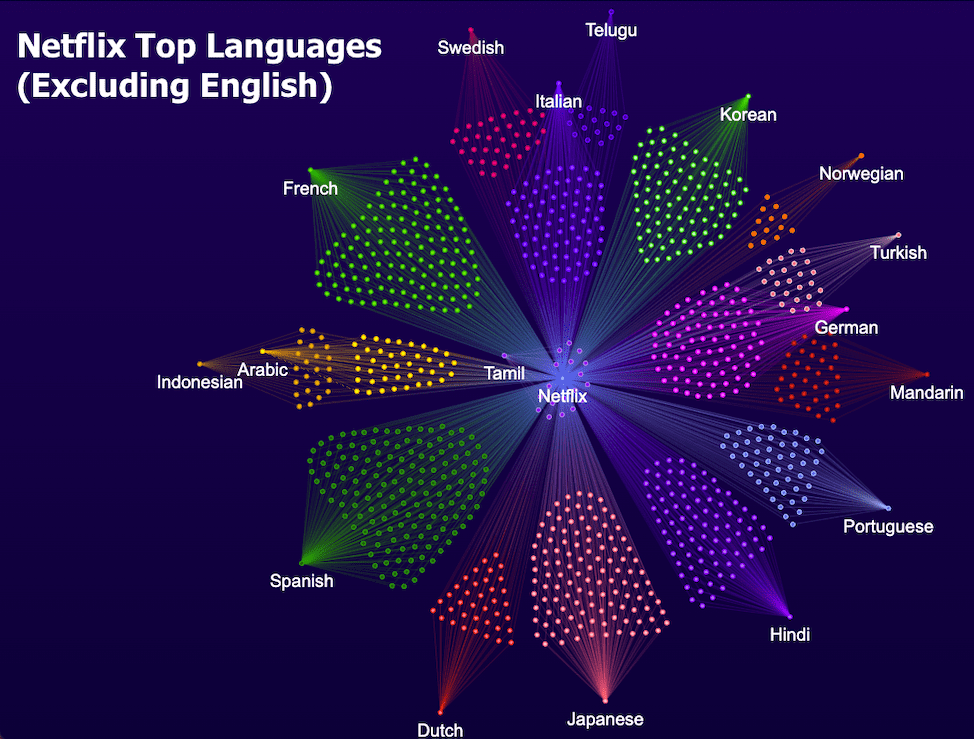 Step-2: What Content Titles to Acquire?
High Demand International Content Titles: Once the languages and genres were finalized, the next big question was to know which titles were popular and in-demand.
Vitrina's solution: Vitrina captures demand signals based on what other top and leading buyers are acquiring. We call it 'Wisdom of Content Curators'. You can read more about Vitrina's Content Demand model here: https://vitrina.ai/blog/acquire-international-content/
The above were powerful signals for SBT to shortlist international content titles in the languages and genres they had zeroed in on.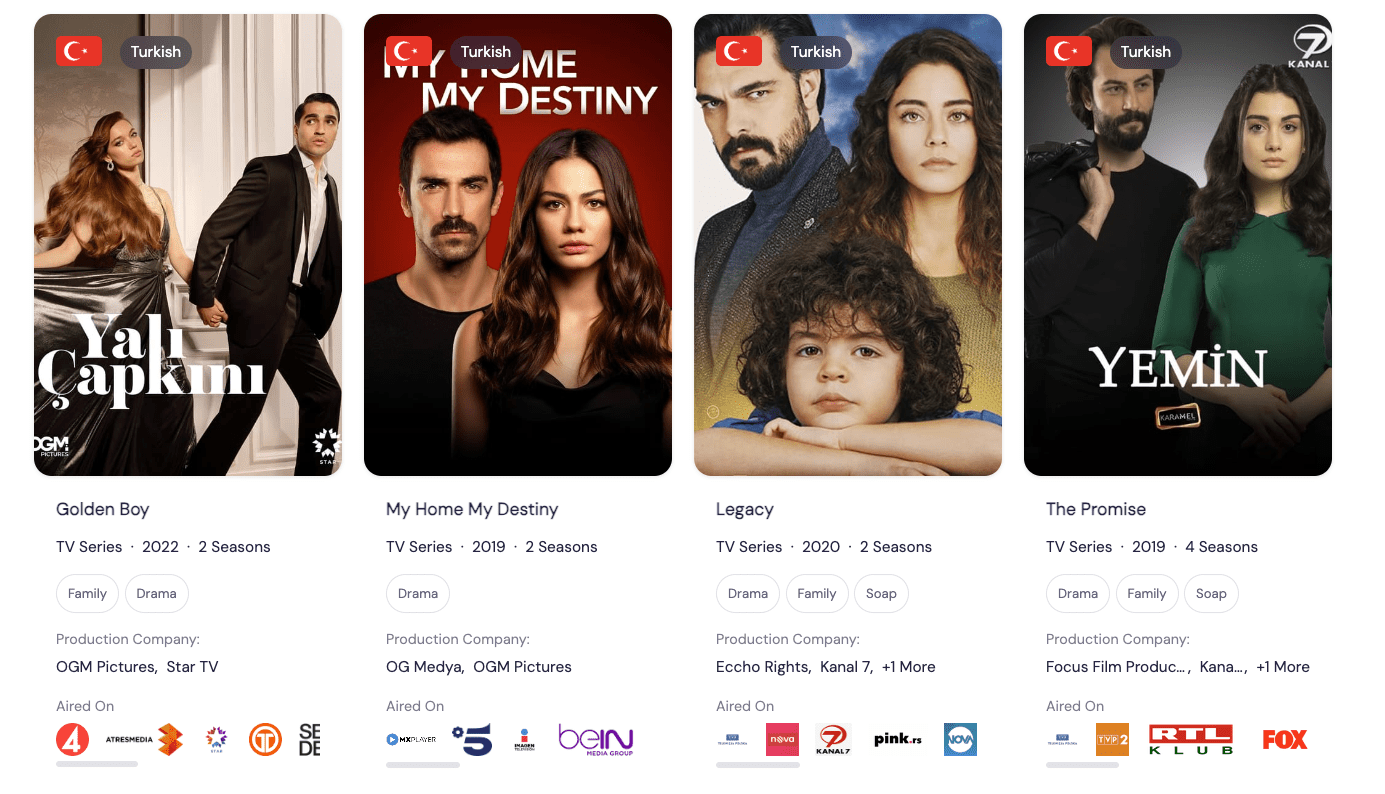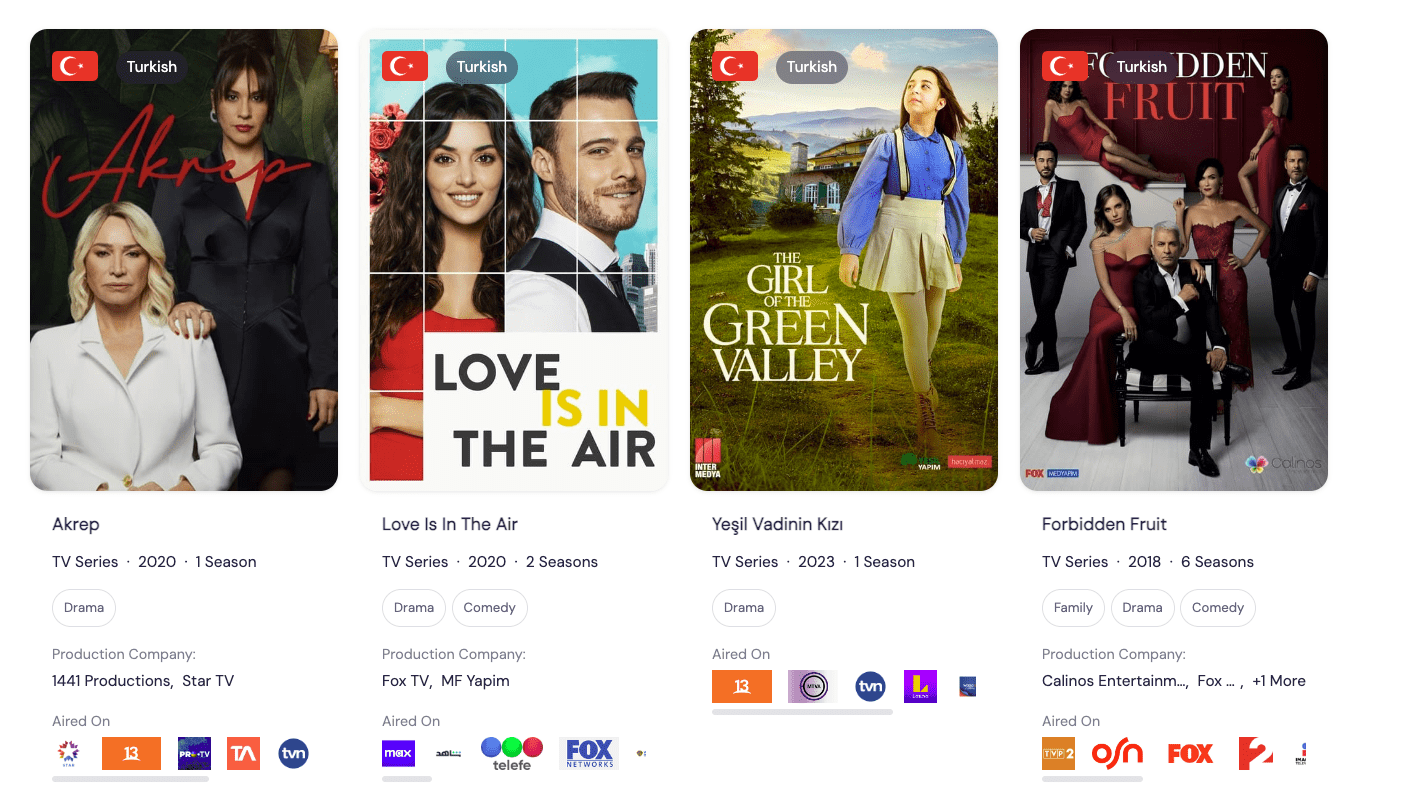 Step-3: Finding the Right Distribution Partners
Finding Distributors: One of the biggest hassles in International content licensing is the identification of the right distributors who have access to the best and relevant local content titles.
Vitrina's solution: Vitrina's solution has the distribution catalogues for thousands of distributors across the world – and these get updated on a continuous basis. In addition, Vitrina AI's system also ranks licensors, licensees across the world on multiple parameters.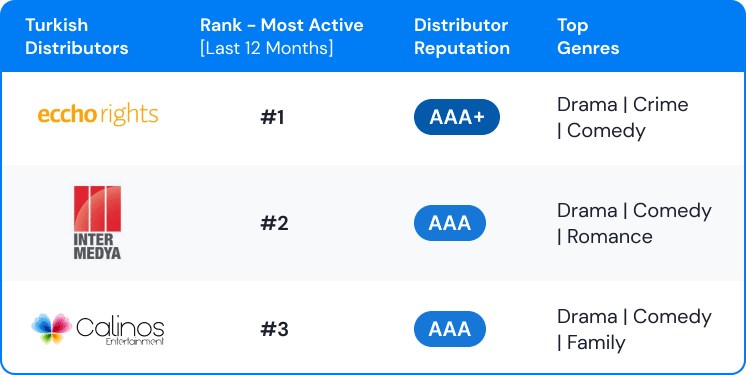 Step-4: Are Rights Available for the Shortlisted Titles?
Avails Position: Another major obstacle in any licensing deal is the availability of rights for the territory, rights-types and period of licensing requirement.
Vitrina's Avails Intel solution: Vitrina generates a host of intelligence relating to a content title's past transactions and distribution across countries. This helped SBT in narrowing down title options to match their avails requirements. What's more, Vitrina was also able to pinpoint the Execs to be contacted for the specific titles.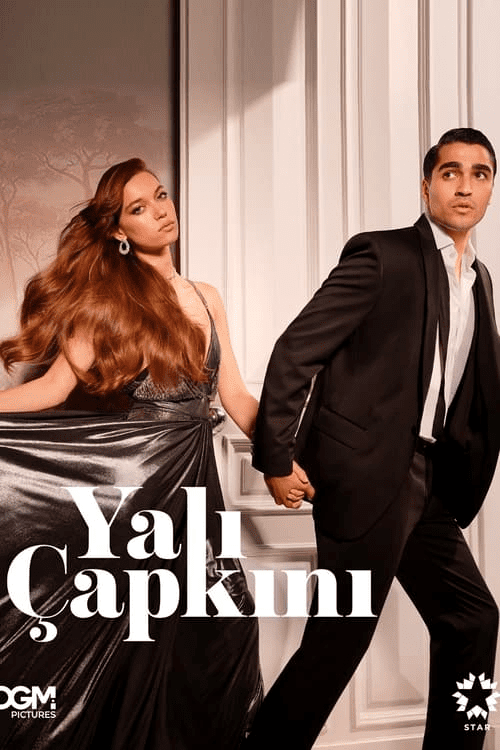 Content Title: Yalı Çapkını
Current Distributor: Eccho Rights
Distribution Exec: Barbora Suster
Rights Already Taken: Sweden | Spain | Turkey | Panama | Australia | Mexico | Romania | Finland | Georgia | Paraguay | Uzbekistan | North Macedonia | Hungary | Namibia | South Africa | Lithuania | Albania | Chile | MENA
Conclusion: Vitrina was custom designed to solve a vexed problem inside the Film and TV industry. That problem was on buying international content that was popular outside of its primary market without all the hassles of expensive travel, clunky Excels, bulky content brochures and long-distance conference calls.
Vitrina's Advantage:
Competitive catalogues
All international content titles searchable by varied parameters
Content neatly linked to its distributors
Content demand signals (derived from choices made by top content curators)
Avails intel showing the content's windowing across major markets
Join us for our webinar on "Acquiring Non-English Content" where our experts will cover:
How to analyse content choices made by global/ regional competition?
Identifying top trending international languages, genres
Shortlisting high-demand content titles from target markets, languages
Top distributors, their catalogue specialisations and key Execs